Turning customers into constituents
Community Day Care & Preschool, Inc.
Ann Arbor MI
While working with Community Day Care, a non-profit Ann Arbor preschool, we spent a significant amount of time discussing who the audiences of their site might be. In the end,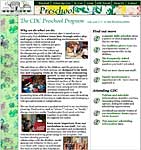 they decided that one key purpose of their web site was to involve parents more fully in the education of their children and make them feel connected to the school community. As a community-based independent school, parent involvement is crucial to their continued success. CDC also wanted to communicate to parents more effectively why the preschool experience was valuable, and not simply a place where families could park their children for a few hours.
In our work on the site, we approached this in a number of ways. In addition to materials which were primarily aimed at prospective parents, we included a wide range of materials which could be of real use to current parents.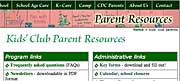 Forms and other reference materials are available for download. Events calendars, generated from a back-end database, helped keep parents involved and up-to-date. Photo galleries, restricted to parents, help encourage parents to use the site and see what the children have been doing. Since CDC is governed by a board elected by parents, we built parts of the site where parents could learn about school governance, board activities, and how they can help.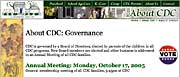 By explaining the system and encouraging participation, we hope parents would begin to feel like stakeholders and not simply customers.
Lastly, we worked with CDC to craft descriptions of their programs which effectively communicated the educational value of their programs in a way that non-educators would find accessible and appealing.